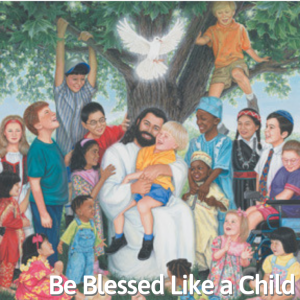 Be Blessed Like A Child
Below are read aloud by the congregation in the sermon, but included in the recording.
Quotes about children
"Every child you encounter is a divine appointment."
Children are the hands by which we take hold of heaven."
"Children are the living message we send to a time we will not see."
"Hugs can do great amounts of good, especially for children."
"Anything who does anything to help a child is a hero to me."
"A person is a person, no matter how small."
"We worry about what a child will become tomorrow, yet we forget that she is someone today."
"Each day of our lives we make deposits in the memory banks of our children."
"While we try to teach our children all about life, our children teach us what life is all about."
"The best inheritance a parent can give his children is a few minutes of his time each day."
Letters from Children to God
"Dear God, would you make me a little brother? I want somebody to boss around."
"Dear God, if you give me genie lamp like Aladdin, I will give you anything you want except my money or my chess set."
"Dear God, I went to this weeding and they kissed right in church. Is that ok?"
"Dear God, I want to be just like my daddy when I get big but not with so much hair all over."
"Dear God, thank you for the baby brother, but what I prayed for was a puppy."
"Dear God, there is not school in heaven, is there?"