Sunday, June 28_In-Person and Online Worship_FINISHED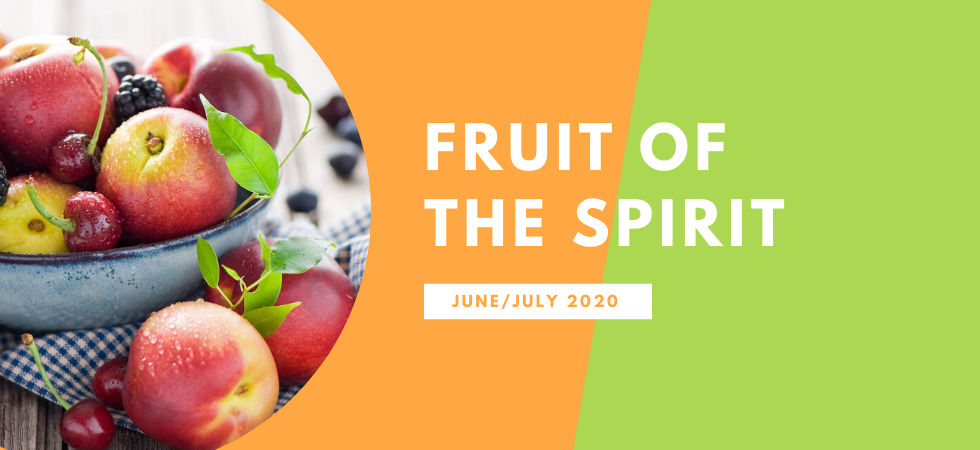 The church building is open for in-person Sunday services at 8 & 10AM.
We open it safely and faithfully – putting the safety of the vulnerable first.
(Find our guidelines here)
We understand that some of you may not feel comfortable joining in the pews yet.
Our services will continue to be livestreamed at http://www.facebook.com/LodiUMC.
We continue to watch closely on the situations. Nothing can be set in stone.
Most of all, we don't want anyone of you to feel left out while we are making another transition.
Please feel free to reach out to Pastor Peace with thoughts and feelings you want to share.
This is our fourth Sunday with the sermon series: Fruit of the Spirit: Cultivating Christian Character.
Do you have an inspiring story about kindness, goodness, faithfulness, and gentleness?
Please call Pastor Peace at 592-3480 and share your story of seeing and feeling them.
Order of Worship
June 28, 2020
OPENING PRAYER
Our souls glorify you, O Lord,
and our spirits rejoice in you, our Savior.
Great are you and worthy to be praised.
Your loving kindness follows all the days of our life.
As we worship you in spirit and truth this morning,
may we turn from the distraction of life and grow to be more like you.
May we be agents of your compassion, offering kindness to those around us. Amen.
SONG OF PRAISE   Come, Thou Found of Every Blessing (United Methodist Hymnal #400)
1. Come, thou Fount of every blessing, tune my heart to sing thy grace;
streams of mercy, never ceasing, call for songs of loudest praise.
Teach me some melodious sonnet, sung by flaming tongues above.
Praise the mount! I'm fixed upon it, mount of thy redeeming love.
2. Here I raise mine Ebenezer; hither by thy help I'm come;
and I hope, by thy good pleasure, safely to arrive at home.
Jesus sought me when a stranger, wandering from the fold of God;
he, to rescue me from danger, interposed his precious blood.
3. O to grace how great a debtor daily I'm constrained to be!
Let thy goodness, like a fetter, bind my wandering heart to thee.
Prone to wander, Lord, I feel it, prone to leave the God I love;
here's my heart, O take and seal it, seal it for thy courts above.
PRAYER
Please share your prayer requests and joys. Type them in the comment section.
SPECIAL MUSIC    Laura Pfeffer, solo
MESSAGE with SCRIPTURE READINGS "Fruit of the Spirit: KINDNESS"
Do you imagine, whoever you are, that when you judge those who do such things and yet do them yourself, you will escape the judgment of God? Or do you despise the riches of his kindness and forbearance and patience? Do you not realize that God's kindness is meant to lead you to repentance? (Romans 2:3-4)
When the goodness and loving kindness of God our Savior appeared, he saved us, not because of any works of righteousness that we had done, but according to his mercy, through the water of rebirth and renewal of the Holy Spirit. This Spirit he poured out on us richly through Jesus Christ our Savior, so that having been justified by his grace, we might become heirs according to the hope of eternal life. The saying is sure. (Titus 3:4-8)
Don't let any foul words come out of your mouth. Only say what is helpful when it is needed for building up the community so that it benefits those who hear what you say. Don't make the Holy Spirit of God unhappy—you were sealed by him for the day of redemption. Put aside all bitterness, losing your temper, anger, shouting, and slander, along with every other evil. Be kind, compassionate, and forgiving to each other, in the same way God forgave you in Christ. (Ephesians 4:29-32)
David said to him [Mephibosheth] "Do not be afraid, for I will show you kindness for the sake of your father Jonathan." (2 Samuel 9:7)
DEDICATION OF OUR LIVES
Thank you for sharing your gifts with God's world through your church. As you prepare your offering, say a prayer. We have the means to give and the reason to give. Yet often our hands hold back, and we hoard what we have in our own self-interest. Having received so much, may we offer freely our time, talents, and money for your kingdom. Bless these gifts for the work of your church. Amen.
SONG OF SENDING FORTH   Be Kind to One Another
(to the tune of AURELIA 7.6.7.6.D "The Church's One Foundation)
1. Be kind to one another, be tender-hearted too —
forgiving one another, as Christ has pardoned you.
Refrain from any gossip, for gossip is a sin.
Be open to new friendships, and welcome people in.
2. Be kind in all your speaking and hear what others say.
Be open to Christ's teaching, and in all matters, pray.
Be gentle, loving, faithful and keep a humble mind.
Remember what is truthful. In everything be kind.
3. Be kind within your circle, but look past what you see;
Be kind to those in trouble — the poor, the refugee.
The world is filled with violence; write letters, call out sin!
Don't ever sit in silence and let the evil win.
4. O God of love, you've taught us. You've shown us what to do:
Be just, commit to kindness, walk humbly here with you.
Your Spirit gives us courage to truly live this way.
May love become our message; may kindness win the day.
Text: Copyright © 2018 by Carolyn Winfrey Gillette. Used with permission.
DISMISSAL WITH BLESSING  Stay well and see you next Sunday in the church or online.
As you close this time of worship, take deep breaths and feel the Holy Spirit speaks of a blessing to you.
---