Sunday, June 7, Online & Drive-in Worship_FINISHED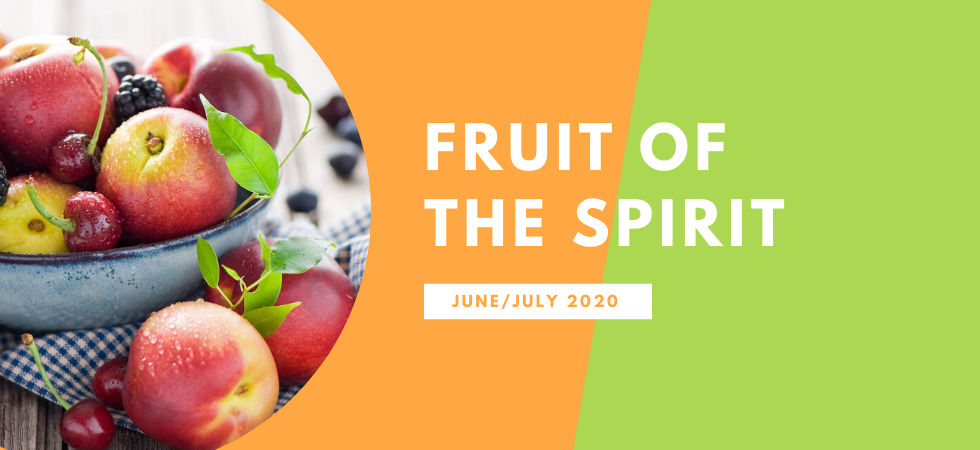 Today we begin our new sermon series: Fruit of the Spirit: Cultivating Christian Character.
Please consider joining for our drive-in worship on Sunday 9AM, in your car in the church parking lot.
For worship in your house, joining us on www.facebook.com/LodiUMC
(no sign-up to Facebook needed, simply click the web address or the image above),
prepare for a reminder of God's presence in and around you, e.g. a candle, a Bible, or a bowl of water.
Wherever you are, as you worship with your whole heart, may the Holy Spirit come upon you!
Order of Worship
June 7, 2020
OPENING PRAYER
ALL) Dear God, grower of spiritual fruit,
Let the fruit of the Spirit blossom, mature, and ripen in our lives:
love, joy, peace, patience, kindness, goodness, faithfulness, gentleness, and self-control.
May we become like Jesus, and our lives make you known. In Hs name, we pray, Amen.
SONG OF PRAISE    I Could Sing of Your Love Forever
Over the mountains and the sea, your river runs with love for me,
And I will open up my heart and let the healer set me free.
I'm happy to be in the truth, and I will daily lift my hands:
For I will always sing of when your love came down.
I could sing of your love forever
I could sing of your love forever
I could sing of your love forever
I could sing of your love forever  Repeat All
O How I Love Jesus (United Methodist Hymnal #170)
Verse 1 There is a name I love to hear, I love to sing its worth;
It sounds like music in my ear, the sweetest name on earth
Refrain Oh, how I love Jesus, Oh, how I love Jesus,
Oh, how I love Jesus, because He first loved me!
Verse 2 It tells me of a Savior's love, who died and set me free;
It tells me of His precious blood, the sinner's perfect plea. Refrain
Verse 3 It tells of One whose loving heart can feel my deepest woe;
who in each sorrow bears a part that none can bear below.  Refrain
PRAYER
Please share your prayer requests and joys. Type them in the comment section.
SPECIAL MUSIC    You Say   by Robin Crow, solo
I keep fighting voices in my mind that say I'm not enough
Every single lie that tells me I will never measure up
Am I more than just the sum of every high and every low?
Remind me once again just who I am, because I need to know,
Chorus You say I am loved when I can't feel a thing. You say I am strong when I think I am weak.
And You say I am held when I am falling short. And when I don't belong, oh, You say I am Yours.
And I believe, oh, I believe what You say of me. I believe.
The only thing that matters now is everything You think of me. In You I find my worth, in You I find my identity.   Chorus
Taking all I have and now I'm layin' it at Your feet. You'll have every failure God, You'll have every victory.    Chorus
SCRIPTURE READING – 1 John 4:17-21
Beloved, let us love one another, because love is from God; everyone who loves is born of God and knows God. Whoever does not love does not know God, for God is love. God's love was revealed among us in this way: God sent his only Son into the world so that we might live through him. In this is love, not that we loved God but that he loved us and sent his Son to be the atoning sacrifice for our sins. Beloved, since God loved us so much, we also ought to love one another. No one has ever seen God; if we love one another, God lives in us, and his love is perfected in us.
By this we know that we abide in him and he in us, because he has given us of his Spirit. And we have seen and do testify that the Father has sent his Son as the Savior of the world. God abides in those who confess that Jesus is the Son of God, and they abide in God. So we have known and believe the love that God has for us.
God is love, and those who abide in love abide in God, and God abides in them. Love has been perfected among us in this: that we may have boldness on the day of judgment, because as he is, so are we in this world. There is no fear in love, but perfect love casts out fear; for fear has to do with punishment, and whoever fears has not reached perfection in love. We love because he first loved us. Those who say, "I love God," and hate their brothers or sisters, are liars; for those who do not love a brother or sister whom they have seen, cannot love God whom they have not seen. The commandment we have from him is this: those who love God must love their brothers and sisters also.
MESSAGE    "Fruit of the Spirit: LOVE"
SONG OF SENDING FORTH   They'll Know We Are Christians by Our Love
1. We are one in the Spirit, we are one in the Lord
We are one in the Spirit, we are one in the Lord
And we pray that our unity will one day be restored
Refrain And they'll know we are Christians by our love, by our love
Yeah they'll know we are Christians by our love
3. We will work with each other, we will work side by side
We will work with each other, we will work side by side
And we'll guard human dignity and save human pride. Refrain
4. All praise to the Father, from whom all things come,
and all praise to Christ Jesus, God's only Son,
and all praise to the Spirit, who makes us one. Refrain
DEDICATION OF OUR LIVES
Thank you for sharing your gifts with God's world through your church. As you prepare your offering, say a prayer. Bless our offerings, O Lord, for your work in the world. May our offerings sow seeds of hop and bear the fruit of love wherever they are sown.
DISMISSAL WITH BLESSING
Stay well and see you next Sunday.
As you close this time of worship, take deep breaths and feel the transforming love of God works in your lives.
---