Sunday April 19_Online Worship_FINISHED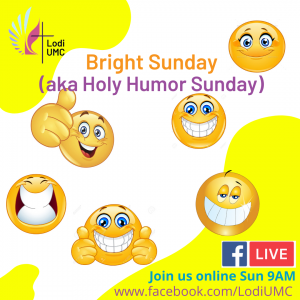 Easter is not simply a day; it is a season in the Church Calendar.
Most importantly, it is a truth that we can live every day.
We're glad that you join us online for worship and fellowship. today is the Second Sunday of Easter.
We celebrate Bright Sunday (aka Holy Humor Sunday).
Take intentional action to prepare yourself for a sacred time, i.e. moving to a different spot, or tidying up the surroundings, or taking deep breaths as you feel the inhales and exhales.
Prepare a candle and your Bible, and place them and also your viewing device in a stand on the table.
Order of Worship
April 19, 2020
COMMUNITY CONNECTION
CALL TO WORSHIP
One: Unlock your hearts – The risen Christ wants to come in.
All: Come, Lord. Dispel our fears.
One: Open your lives – The risen Christ needs a home.
All: Come, Lord. Let your peace rule in our hearts.
One: Easter rolls the stone.
All: Nothing of our hearts can be shut anymore!
SONG OF PRAISE     You Are My King
I'm forgiven because you were forsaken. I'm accepted, you were condemned.
I'm alive and well. Your spirit is within me because you died and rose again!
Chorus) Amazing love, how can it be? That you, my king, would die for me.
Amazing love, I know it's true. It's my joy to honor you. Repeat the Chorus
In all I do I honor you. Repeat all
Jesus, you are my king. Jesus, you are my king.
PRAYER
Please share your prayer requests and joys. Type them in the comment section.
EPISTLE READING – 1 Peter 1:17-23
SONG OF PRAYER    Be Thou My Vision (United Methodist Hymnal #451)
1. Be thou my vision, O Lord of my heart; naught be all else to me, save that thou art.
Thou my best thought, by day or by night, waking or sleeping, thy presence my light.
2. Be thou my wisdom, and thou my true word; I ever with thee and thou with me, Lord;
thou and thou only, first in my heart, great God of heaven, my treasure Thou art.
3. Great God of heaven, my victory won, may I reach heaven's joys, O bright heaven's Sun!
Heart of my own heart, whatever befall, still be my vision, O Ruler of all.
GOSPEL READING  – John 20:19-23
MESSAGE
The good news of Jesus' resurrection is this: ____________________________________________
Three gifts that the risen Christ grants:
(1)
(2)
(3)
Do you have Jesus in your heart today? Sit with this question for a minute and feel that Jesus comes!
SONG OF FAITH    Because He Lives (United Methodist Hymnal #364)
1. God sent his Son they called him Jesus;
He came to love, heal, and forgive;
He lived and died to buy my pardon,
an empty grave is there to prove my Savior lives.
Refrain) Because he lives, I can face tomorrow;
Because he lives, all fear is gone;
Because I know he holds the future,
and life is worth the living just because he lives.
2. How sweet to hold a newborn baby,
and feel the pride and joy Jesus gives;
But greater still the calm assurance,
This child can face uncertain days because he lives.
3. And then one day I'll cross the river;
I'll fight life's final war with pain;
And then as death gives way to victory,
I'll see the lights of glory and I'll know reigns.
DEDICATION OF OUR LIVES
Before you mail your offering to the church or make it online, say a prayer such as: God, live in and through this gift we send forth for the mission and ministry of our beloved church that we may bring new life and hope into the troubled world.
DISMISSAL WITH BLESSING
Stay well and see you next Sunday online at our livestream service.
---